Sparrow's Nightmare's are born in our sleeping-room - for our peace of mind:-) !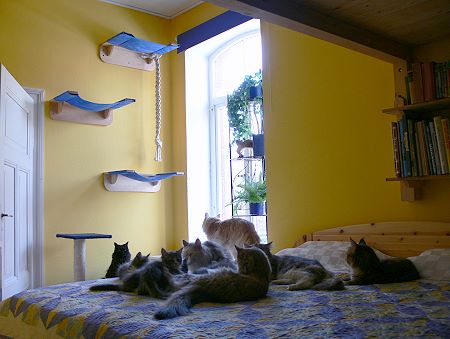 "Siesta" ... Geordie with his girls and a few babies on our bed.
For the mothers there is a roomy baby box for raising their babies during their first month (made from untreated natural wood - see photo on the right) which measures: length: 39.37 inches (1.00 metre)/depth: 23 inches (0.60 metre)/height: 15 inches (0.40 metre).
Baby box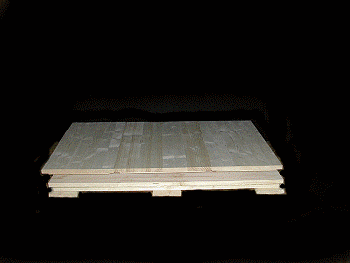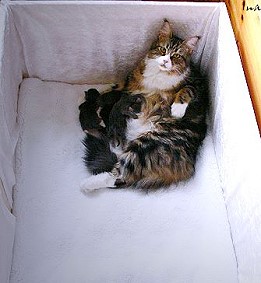 Baby box for the first four weeks of life. If my cats have babies, I'm sitting many hours together with them in this box - so the babies will be very people oriented.

Playpen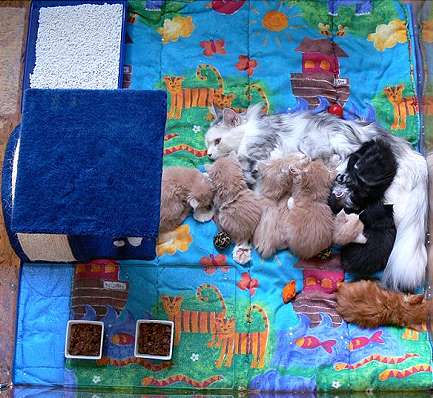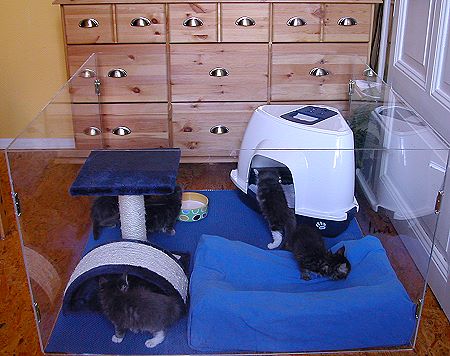 Playpen for one week (between the fourth and fifth
week of life)



Around the fourth week the babies can climb independently out of the baby box. At this point of time we place them in a self-made playpen. Here they can play, climb and to be house-trained. When they are five weeks old, they take over the rest of the house, except the children´s bedrooms and our bathroom. they chase after the children, the adult cats and of course the dog. Running up and down the stairs of our two storey house gives them plenty of exercise! Unfortunately the few weeks until they go to their new homes are always much too short!





Our babies are doubly inoculated and treated regularly, preventively against endoparasites/ectoparasites, before they leave us at the age of 14 to 16 weeks. An earlier seperation from their mother could cause irreparable damage- concerning the social behavior and immune system - in a young cat and is irresponsible.
Scratching tree in the living room ...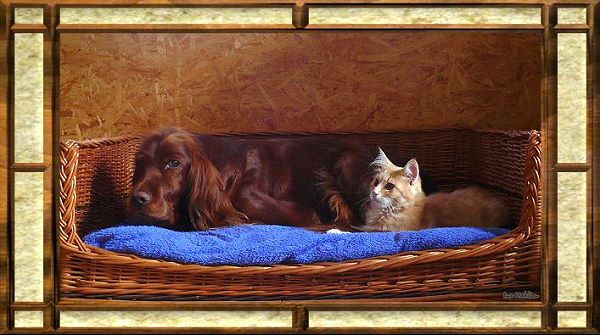 cosy moments with dog Svenja.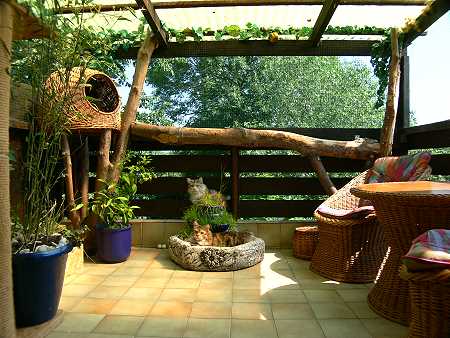 Our adult cats have the use a roomy cat-balcony. In the morning at 4.30 o'clock the sparrows stir in their nest under the roof and 78 inches (two metre) below there are the Sparrow's Nightmares, hoping in vain that one of the feathered "friends" will join them! :-))). By evening they will made plentiful "spoil" in the form of moths and other crawly creatures - also a hunting success.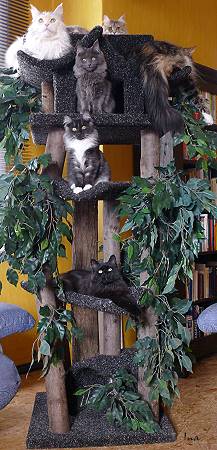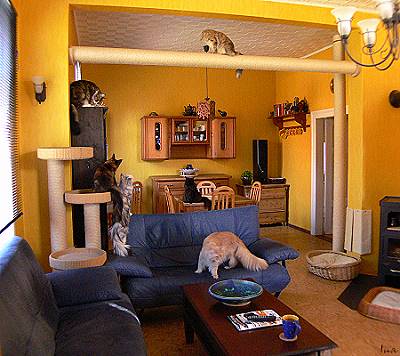 Cat trees & catwalk in the living room, Geordie and his girls enjoying their
morning gymnastics ...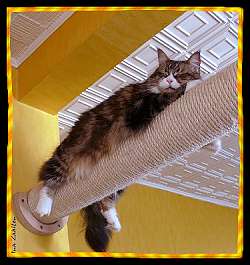 little nap at the catwalk ...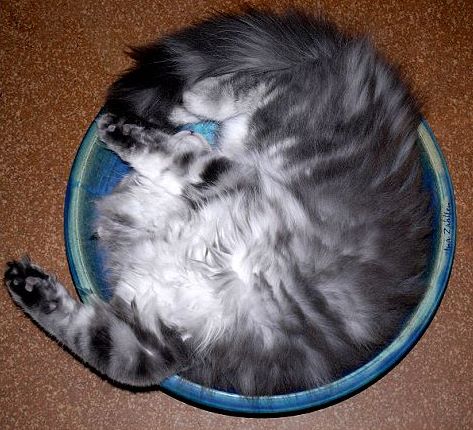 sleeping in a fruit bowl ...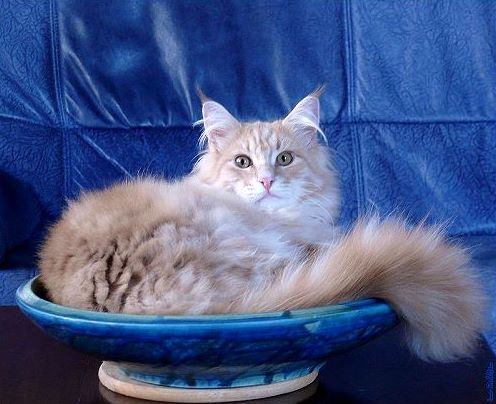 sweet fruit in the bowl ...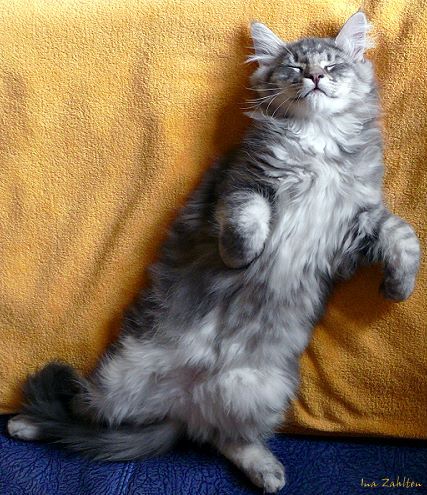 couch potato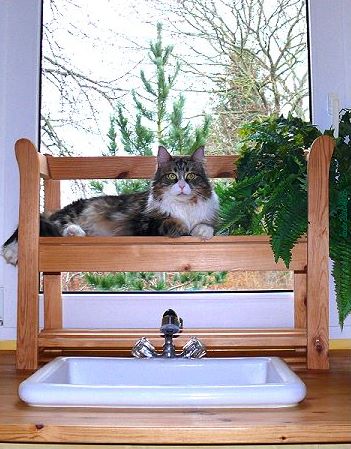 waiting for dinner ...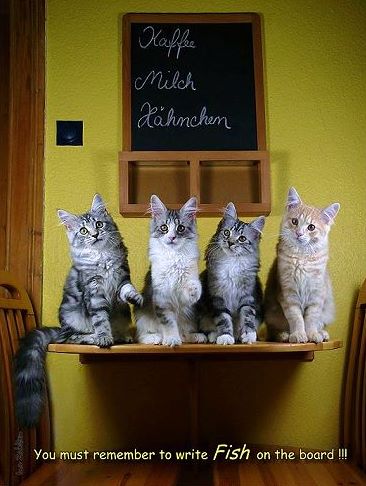 helping with the shopping list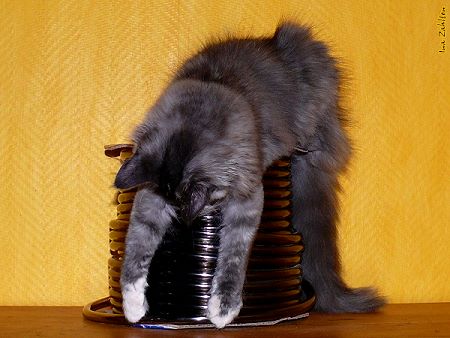 chilling out after a busy day ...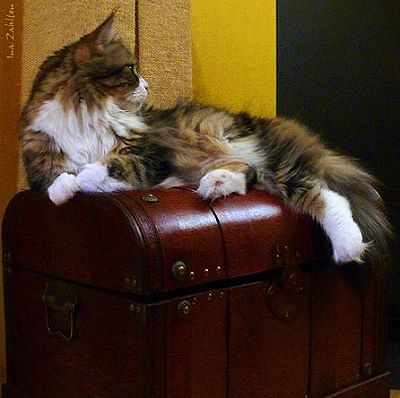 ---
Please note the conditions for many beautiful years :


Respect, love, tolerance and care !!!
*******************************



Respect in relation to the life ... a guarantor for affection.
Love ... the condition for confidence.
Tolerance ... nobody is perfect.
Care means:

... affectionate education. Inappropriate measure, liberty withdrawal or corporal
punishments lead rarely to the goal and draw out such a manner punishing
humanes asirresponsible, intolerant and extremely
poor person.

... health welfare service. Vaccinations and redeem when incurable
illnesses.

... cleanliness. We also may not use dirty plates, toilets and
beds.

... to feed good food. The basic for a
healthy body.


... to give your Maine Coon a friend.